WordPress Themes for ECommerce
In the current scenario, the world is moving towards digital marketing, which has a great boom in all jobs and businesses. In addition to this many have started an online business or planning to start and become an entrepreneur like selling a product online, which is considered the easiest and accessible way of launching your own business and making money online from their own comfort at home. This process is generally termed eCommerce while designing your own website you will need the best, and free WordPress themes for eCommerce to enhance the visibility and functionality of your store.
Here in this article, we will discuss the leading WordPress themes available for your eCommerce shops and it is fully responsive and enhanced with the help of the fantastic eCommerce plugin termed as WooCommerce.
With the WooCommerce plugin, many functionalities are possible which are you will be able to give descriptions, specifications, and pricing of the products. In addition, the user can add products to their virtual cart and then later on checkout and make their online payment. All these are possible with this plugin and it is very easier even for the beginner. Let us discuss the themes with the great support of WooCommerce plugins.
Free WordPress themes for eCommerce
eStore
eStore is a free WordPress theme for your store with simple and beautiful designs that is fully customizable and responsive. In addition, this theme is supported by the WooCommerce plugin, which is, an added feature for your website that makes the user feel easier and more attractive. It is available with many premium features and custom widgets with a professional and well-organized look at your store. Using this theme would be easy to switch between the list view and grid view. Users can build their sites within a short span of time.
Significant Features
4+ Different homepage layout and unlimited colors
100 % Responsive design
Product slider and daily deal module
Megamenu and mobile menu
Ajax for add to cart
WooCommerce 3 Ready
Brand Logo slider
The easy store is a well-designed free WordPress theme available for eCommerce stores. It is fully compatible with the most popular WooCommerce plugins and more responsive and Retina ready. The theme has an elegant design and easy to access and user friendly. It gives the users a great feel and best experience while using it.
Significant features
Translation Ready
SEO Friendly
Compatible with WooCommerce
YITH WooCommerce wish list
Ziggy lite is the free WordPress theme and a next-generation theme with more flexibility to design any type of website for online stores. It is customizable meaning that the users will get the site designed as the same that they expected and visualized. It also enables you to customize your homepage that helps you to display your best and most popular products. The theme also provides you with a more personalized and attractive checkout page that enhances your conversion rates.
Significant Features
Integrated with WooCommerce
Call to action section
Fully responsive and retina ready
SEO Optimized
/gorgeous slider that helps in promoting your products well
Shopping cart is the free WordPress theme that mainly focuses on building eCommerce sites, shops, and fits for any kind of online shopping theme. The theme consists of well-organized content that enhances editing and customizing anything based on user needs. The theme is well suited for even bloggers, eCommerce stores, and portfolios. It consists of various templates like contact us template, gallery template, and shopping template. Using this theme you can build a great shopping store as expected in a few minutes.
Significant features
Supports more popular plugins like (Breadcrumb NavXt, Contact form 7)
Translation ready and easily customizable
Multiple navigations
Retina ready
More number of templates
ECommerce Gem is the free Multipurpose WordPress theme that is suitable for all eCommerce stores of any type. This is the best theme that is a perfect choice for website design with the WooCommerce plugin. Using this plugin, you will be able to design your store with checkout and shopping cart online very easily. The great advantage of using this theme is that it comes with a product search combined with a category selection tool. Moreover, it works perfectly on all devices. This theme is best suited for all types of business even you can start selling jewelry or clothing.
Significant features
Drag and Drop Widgetized home page
Social link settings
Fully responsive and customizable
Ability to add multiple sections to homepage and banners for promotion
SEO Friendly and Retina ready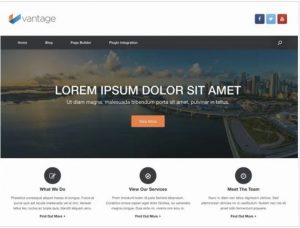 Vantage is the free and Flexible WordPress theme available with perfect design features. Using the vantage theme gives complete freedom to the users meaning that you can make your own site choosing a wide variety of niches you wish to do. It offers more number of functionalities to the user and looks great with its beautiful and elegant designs. This theme is perfect for all business websites and for a professional blog. You can build your own store in no minutes and sell anything online with its great features.
Significant features
Fully responsive and Retina ready
Works out well with popular page builders
Full-width slider and beautiful icons
Integrated with WooCommerce
Eightstore lite is a free eCommerce WooCommerce theme that best suit for you to build your online store in no minutes. Eightstore theme allows you to link with a wide variety of your pages and categorize your store with better navigation. This theme comes with the option of testimonials, which allows you to exhibit the credibility of your company, and it is fully responsive. The WooCommerce plugin used here makes the users feel easier to purchase and sell products online where the plugin and payment processor is doing the maximum process.
Significant Features
Fully responsive and Retina Ready
SEO Friendly
Configurable homepage and slider
Many interesting Frontend Features
Integrated with WooCommerce Plugin
Tyche is a Powerful free WordPress theme with a simple design that attracts more users. This is also the theme that is integrated with WooCommerce, which helps to design your online store with more additive features with a complete design. It helps to categorize your products with easy to customize widget options within it. It is a perfect choice for both beginners and professionals to design their site with a simple design.
Significant features
Customized widgets
SEO Friendly
Integration with WooCommerce
Call to action buttons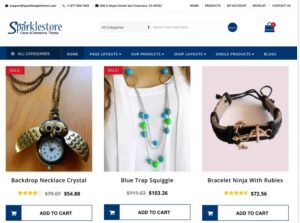 SparkleStore is the modern and fully responsive free WordPress theme available with more features. It is a well-developed and customizable eCommerce WordPress store theme. SparkleStore is customizable and adaptive to any niche or any type of business. The color scheme used here include lots of white space that allows you to promote your products largely. It is a perfect choice for commercial endeavors of all kinds.
Significant features
WooCommerce integrated
SEO Friendly and Customizable
YITH WooCommerce Wish list
WOOF Products filter
WooCommerce variation swatches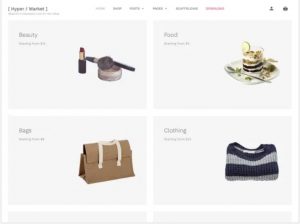 Hypermarket is the ultra-responsive and modern free WordPress theme that is very much needed for the online store built nowadays. It provides a beautiful and professional look to your site with its elegant designs. Any devices can access this theme at any time with an attractive look. This is a good and effective theme for the webmaster with or without coding knowledge. Using this theme you can design and eCommerce store that mainly focuses on online transactions with a unique shopping cart.
Significant features
Full width featured products
Integrated with WooCommerce
Customizable and User friendly
Fully responsive and RTL Ready
Retina Ready and SEO Friendly
Customizr is the simple and super-fast free WordPress theme available with lots of features that attract and engage more visitors to your shopping site. The theme comes with unlimited colors and striking typography with six layouts and custom widgets. In addition, it comes with a bundle of social media icons and chunky thumbnails linking to your content.
Significant features
Call to action buttons that increase the boost conversions
Integrated with WooCommerce
Easy customization
SEO Friendly and Translation Ready
StoreFront is the perfect choice of a free WordPress theme for your next online eCommerce shopping store. It is well suited for coders since WooCommerce Core developers developed it. It provides excellent features and a lightweight theme suitable for any type of business. It comprises of full-width parallax image on the homepage and also category thumbnails and product galleries available, which make the users or the visitors more convenient to shop online from their own comfort by choosing one out of many categories.
Significant Features
Lightweight and super-fast theme
SEO Friendly
Translation Ready and Retina Ready
Product galleries and product images
Unlimited colors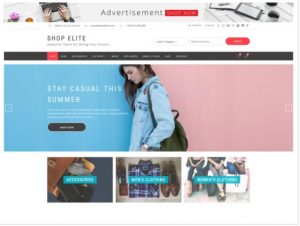 Shop Elite is a modern and Professional Free WordPress eCommerce responsive theme. As it is integrated with the WooCommerce plugin, it comes out with various functionalities that enhance the visual appearance of the shopping site. The users can change colors and fonts based on their requirement and the custom widgets display different products.
Significant Features
Multiple page styles
Integration with WooCommerce
Full-width Slider
SEO Friendly and RTL Ready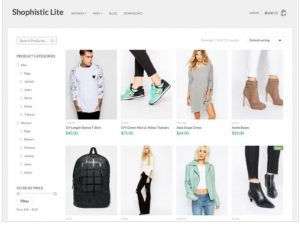 Shophistic lite is the ideal choice WordPress theme for eCommerce shopping sites. In addition, the theme includes blog theme, and works with contact form plugins and sale tags on sale items will be flagged. It includes plenty of whitespaces that allows you to clearly display your product and it is easily customizable.
Significant Features
Integration with WooCommerce plugin
Product sorting and filters
Product categories
Fully customizable
Translation Ready and RTL
SEO Friendly and optimized
Download here
OpStore is the complete perfect free WordPress theme for the eCommerce store. This theme is also integrated with WooCommerce, which makes the website more attractive for the visitors with its various features and includes various options like header option, sidebar option, and custom widgets.
Significant Features
Multiple Header option
Compatible with popular page builder
Custom widgets
Unlimited color options
Conclusion,
Hence the above-mentioned is the Best and Free WordPress themes for eCommerce Stores. It is up to your choice to choose the best theme based on your site requirement, enhance your online business effectively, and reach greater heights.