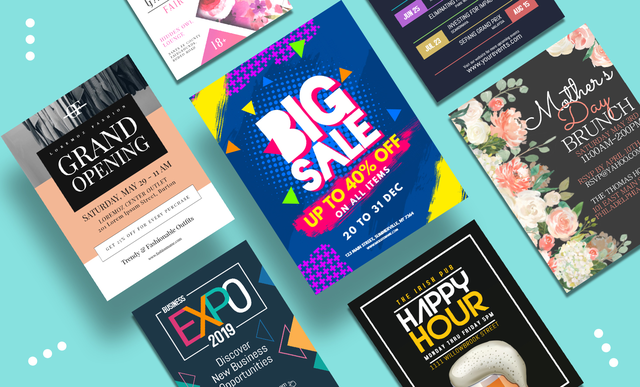 PosterMyWall Review 2021: Design, Collaborate And Publish All In One Place
The growing importance of social media has pushed businesses and individuals to optimize their presence across various digital platforms. With 73% of marketers believing social media to be an effective tool for their business, market leaders are investing in tools and platforms that allow them to streamline their presence.
PosterMyWall is one such tool, offering templates that allow you to create customized content offerings. Let's take a look:
What Is PosterMyWall?
PosterMyWall is a digital media company specializing in creating high-quality social media templates for all platforms, including niche platforms like Pinterest, Twitch, and Discord.
It is easily accessible and user friendly, requiring no prior arts or graphics experience to create your designs. With over a thousand templates available for every category, you can easily create customizable posters, flyers, social media collateral, and more for your small business, your local club, a supporting organization, or your own little party invitation card!
Additionally, it offers cloud storage. Whether you're using it on your own or working with a team on a singular account, all your designs will automatically be saved in Cloud. Moreover, you can also make folders and collections to organize all your templates and keep them securely in one place.
You can invite your team to also edit and comment on designs – a super important feature for design teams. And best of all, PosterMyWall is optimized for almost all devices – smartphones, tablets, and desktops.
Major Features Of PosterMyWall
PosterMyWall offers several features that can help with marketing and promotion:
1. Video Creation
With PosterMyWall, you can create dynamic content by adding videos to your design. You can do this in two ways:
Create videos from scratch
Use a customizable video template design
Once you have created your video, you can edit it in various ways using the video editing tool. Use features like opaque, trim, duplicate, replace, and mute or unmute a video.
PosterMyWall also offers unique effects like altering the tint and brightness on your videos.
2. Specialized Creation Tools
Menu Creation
It can be a hassle every-time you make a new addition to your restaurant's menu.
PosterMyWall offers hundreds of ready-made, customizable restaurant menus templates, allowing restaurant owners to easily choose their menu style, rather than spending considerable time in design technicalities. Moreover, if design isn't your forte, try using the free online menu creator to find various different styles of menus.
Schedule Maker
It can be tough to organize events without a timetable or a plan to follow. With our schedule maker, you can create, edit and manage schedules with just one click. Go to the 'Layout' button in the Editor column, then click on "Add Schedule" and begin creating.
You can also customize your agenda with different styles of text, background, and borders.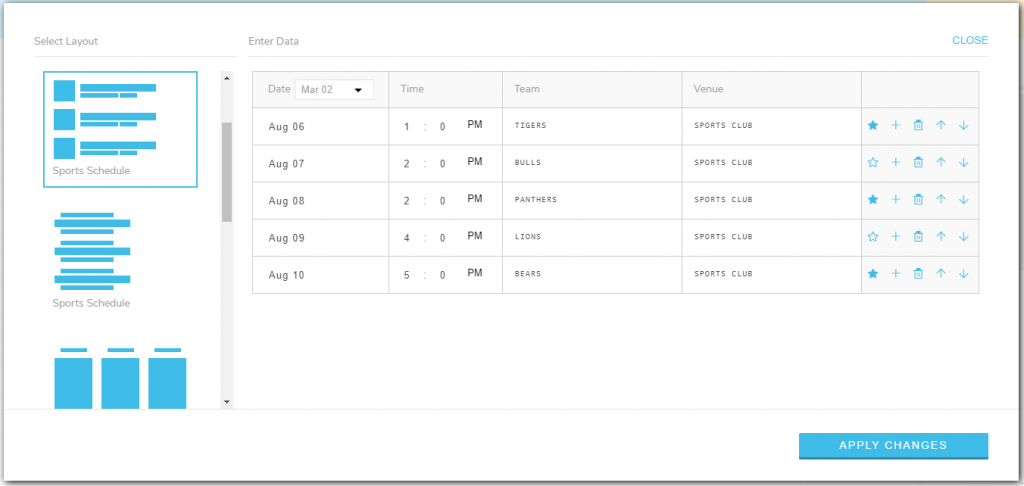 Table Maker
To make information easy for your audience to grasp, compile it in a table. Open your post in the PosterMyWall editor and select the 'Layout' option to create a table.
Tear-off Tabs
Flyers are an effective form of marketing. They are made even better with tear-off tabs, so interested people can tear off the part with your contact info on it and keep it with them. It's so much better than looking around for a pen and paper to take off your information.
Just add your phone number or email address, print them off and give them away.
3. Publishing Tools
Creating and designing is all fun and games, but the real test is putting up those posts on time. Many marketers and content creators often struggle with posting regularly.
With PosterMyWall, you can create, schedule, and publish your posts directly on your social media platforms. Here's what else you can do:
Create and Send Out Emails In Bulk
Email campaigns are a great way of making a lasting impression on your customers. With PosterMyWall's newest feature of creating an email campaign on the fly, you can now design a series of emails for your campaign. The best part is that it is free to use, allowing you to send around 100 emails in a day. For a larger customer-base, you can subscribe to Premium and Premium Plus packages.
Publish Social Media Posts
After designing your posts, you can upload them directly on Facebook and Twitter and share them across multiple channels simultaneously.
Schedule Social media posts
Scheduling posts is a helpful feature for all designers and content creators to use for consistent marketing and branding. Once you have designed your post, you can schedule it through the "My Stuff" page. Select the downward arrow for the design, and it will show you an option of "publish to social media". Write a short caption to be displayed with your post when you publish it.
You can also select the date, day, and time to publish the post later, if the need be. However, the schedule option is only available for premium and premium plus subscribers.
Shared Photo Collections
Organizing all your designed photos and templates in one place can be of great help, especially if you're working in teams. This allows each team member to customize or edit the same design and save multiple copies in their folders instead of uploading it every time.
Photo Collections is also a great way of adding and organizing your photos in the order you want to publish them on social media.
4. Animation Tools
Almost 96% of people watch videos to know more about a brand's product, and 69% of marketers claim to have generated more leads with video content than any other form of content. So it makes sense for marketers to include animation videos in their marketing strategy.
With PosterMyWall, making animations is fun and easy.
Intro Animations
People want brands to create engaging video content for them. If you haven't incorporated a video in your marketing campaign yet, now is the time to do so. Video is consumer's #1 choice of content, and they love to engage with brands that create interactive videos for them.
It is now super-convenient to create vibrant moving designs with PosterMyWall. Just open your project in the editor and select the 'Intro Animation' button on the right.
Text Animations
Text animation is the newest feature that allows users to move their text in sequence, giving a creative edge to your textual designs. Type out your text in the editor and apply the 'add animation' option. You can also change each animated element's time duration (the default time is set to 3 seconds).
5. Customized Video and Image Templates
There is a wide range of templates you can choose from to create seasonal content from the PosterMyWall Library. Here you can find:
Holiday templates: From Christmas and New Years' to Easter and Halloween, you can access many different colorful templates fit for each occasion.
Templates for online and offline purposes: Design flyers, album covers, CD covers, business signage, and other essential designs to optimize your marketing efforts.
Templates for niche branding: Ready-made templates with different styles for most niche businesses, such as a menu creator for restaurants, organization charts for conferences.
Personal Projects: There are also templates available for private projects, such as photo collages, greeting cards, or birthday invites.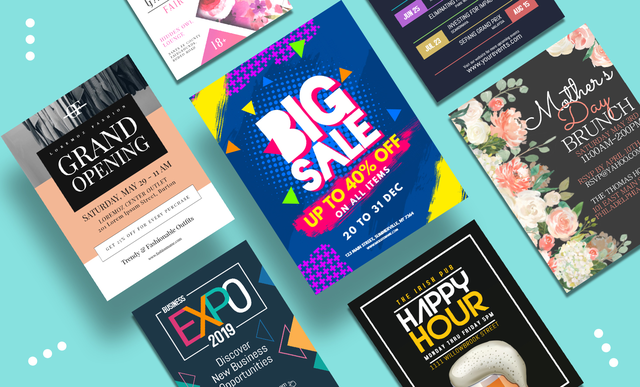 How Is Postermywall Different From Other Online Design Platforms?
PosterMyWall offers a stress-free solution for individuals and businesses to create designs without the need for any prior artistic experience. Here's what it offers:
Professional Looking Videos
PosterMyWall's video maker allows users to create a video out of multiple images, a moving image, or even convert a video into an image! With our professional tools on the platform, you can create professional-looking videos in no time.
Huge Variety Of Templates
With a vast library of available templates, you can use them as-is or customize them according to your business requirements. Moreover, there are also a range of templates that you can edit and design for both your digital and offline use.
Free Collaboration Options
When you're working for your business, team collaboration on all your designs is often necessary. Our share and edit options allow team members to collaborate on designs and make changes with relative ease.
Free Resizing
Resizing your images and posts is a common feature that is offered by most design tools and software. However, what's different with PosterMyWall is that you can resize an image multiple times as much as you want without any additional cost!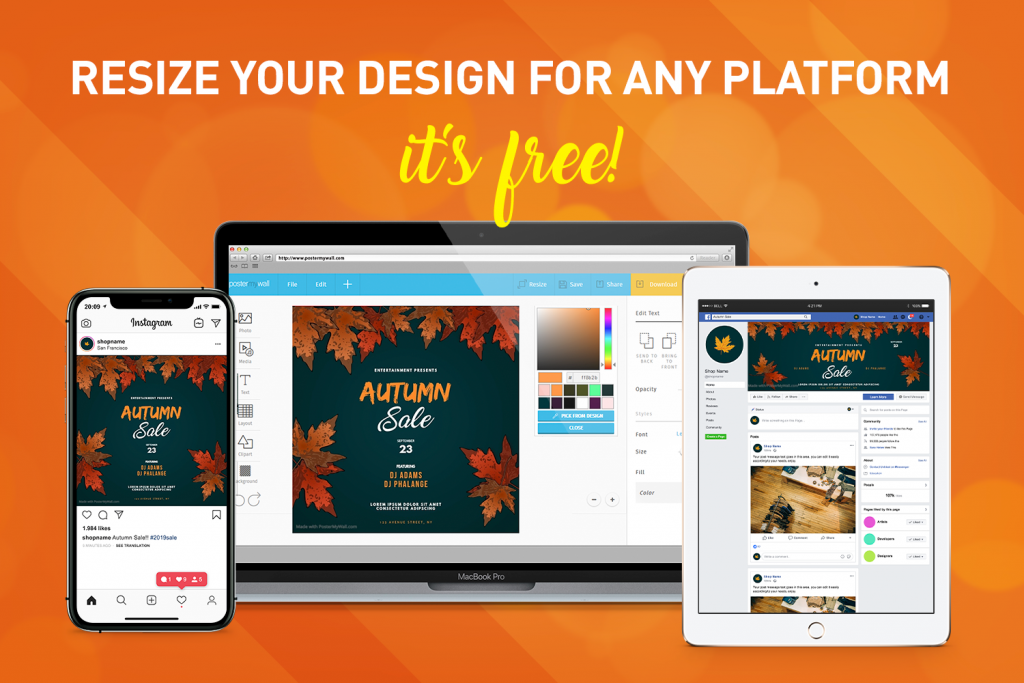 Schedule and Publish Content
You can design social media posts with almost any other design tool. But very few tools let you create, publish and schedule in one- go. With PosterMyWall's My Stuff page, you can plan your posts for days in advance or publish them all on different social media platforms all at the same time.
Getty Stock Graphics
GettyImages offer a wide range of images that you can use to create all kinds of content in your designs.
Pros And Cons Of Using PosterMyWall
| | |
| --- | --- |
| Pros | Cons |
| Customizable templates and designs that can make your graphics look like a pro! | The schedule and publish feature is not available in the free version. Users will have to subscribe to the Premium or Premium Plus package. |
| Easily change the size of your design canvas so you can incorporate the design as you like. | Some users may find it difficult to contact for help through email and may prefer a customer service contact. |
| High-quality downloads with different download options (pdf, jpg, png) | Users tend to get confused with the Premium and Premium Plus subscription packages and credits since they all have many caveats involved. |
| Easy to use, especially with different templates geared towards specific niches | While editing designs, sometimes it may get difficult to click on a particular spot and edit it. |
Pricing Options
Although users have access to most features in the basic version, some elements are only accessible to subscribers. A premium subscription will cost users $8.33 per month, charged annually.
What do you get by subscribing to Premium Package?
You can download images and videos without a watermark
Image downloads
Standard quality: prints for up to 12 inches at $2.99
High-resolution image: prints for up to 9 feet at $7.99
Video downloads
HD video download: The option to download a high-resolution video at $14.95
4K Video download: download a 4K video at $24.95. For best results, use a 4K compatible screen.
To Conclude
PosterMyWall is a graphic design tool created from the ground up with marketers in mind. It provides easy graphic design and publishing tools to make the work of any marketer and business owner a little easy and streamlined.
I hope this review helps you learn more about PosterMyWall so you can make an informed decision about whether this tool is a right fit for your business.