Affiliate marketing is a rapidly growing online business with a win-win strategy for both the merchants and the affiliates. First and foremost, before starting any online business you should be prepared and planned well to earn income for your business full-fledged. To start affiliate marketing as your business you should reach the target audience and let them know about you and your products/program. To achieve this you can design an elegant website to reach your customers easily and since it is an online business website is necessary.
When designing the website for your affiliate business, you will be in search of the best WordPress themes for your content to be more effective and attractive which makes the audience be engaged for a longer time. In addition to this, designing with an appealing theme would help you to rank high on search results and makes your customers click your affiliate link. In addition, there is more number of payment gateway providers that help to make the payments faster and in a secure way. You should also know about the hosting services required and register the domain name for your website.
Let us now discuss the Best and Free WordPress themes for Affiliate marketing that in turn helps you to earn money effortlessly.
Free WordPress Themes for Affiliate Marketing
The advanced eCommerce store is an excellent and best choice for affiliate marketing, which is available with more intuitive and stylish WordPress themes for all types of online eCommerce store by extending its scope of products day by day. This theme is best suited for mobile and gadget stores, fashion stores, jewelry stores, and any website dealing with selling or purchasing products. It is available almost in all languages needed with more number of features like,
Uploading logo or editing slider settings
Feature items into categories
Advanced Ecommerce store
SEO friendly
Translation ready
Compatible with different shop layouts
Allows you to link up to 4 Social media accounts
Rating: 5 out of 5 stars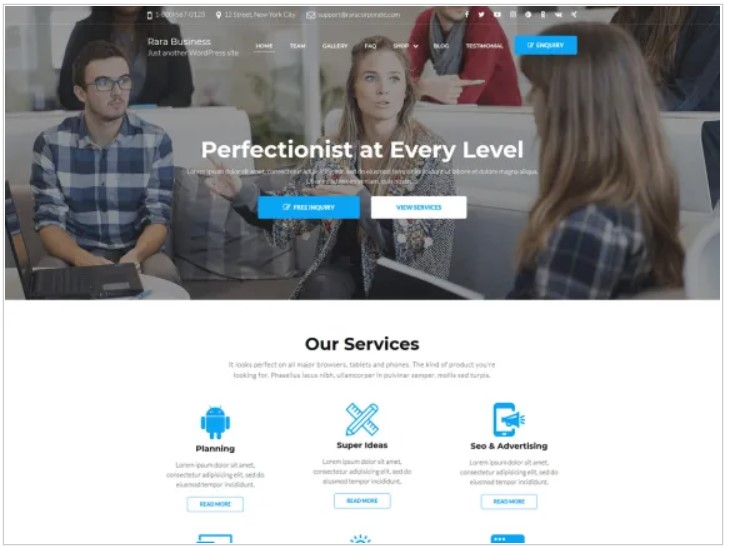 Rara is one of the best free WordPress themes available for all types of business and corporate websites. It would be the perfect choice to build small business websites like café/restaurants, education, hotels, affiliate marketing, wedding planners, fashion, lawyer consulting, portfolio, online agencies, and still many more. Even if you are freelancers then you can design a website for yourself easily with an appealing visual appearance and elegant design styles. Most lucrative features of Rara theme are,
Widgetized and visually appealing
SEO friendly and highly optimized
RTL Compatible
Translation Ready and Retina ready
Integration of WooCommerce plugins
org compatible
Easily customizable
Rating: 5 out of 5 stars

Business blue is a multipurpose and responsive theme suitable for all businesses. It is the child theme of the Di business theme. Since integrated with WooCommerce plugins, it has various attractive features that make your website user-friendly and easily customizable for all your customers and you can reach your target audience effectively in a short span of time. You will be able to customize header images and create contact forms 7 and layouts of your own choice. Some of the most significant features are,
Page Layouts
Footer Widgets
SEO Friendly and Optimized
Typography options
Create a Social Profile
Sidebar widgets
Rating: Not yet Rated
This is the free one-page WordPress theme to create business and corporate websites that work out well in all devices. The theme is SEO friendly, which makes the user very easy to be found out by Google and other search engines if designed and optimized well. You will be able to create stunning websites within few minutes effortlessly. You will be able to design for all business-like, web agency, portfolio, e-commerce, affiliate marketing, construction, food blogs, resort, and still many more. Few significant features to mentioned are,
3 Custom widgets for recent, popular and social media posts
Integrated with WooCommerce plugins which makes it more compatible
Call to action buttons and testimonials
Portfolio and product display
Translation and Retina Ready
SEO Optimized
Rating: 5 out of 5 stars

aReview is the 100% responsive Free WordPress theme that is well suited for the affiliate marketing reviews, for game reviews, or for movie reviews. It would be the best choice if you have a plan to design a review site for your business whatever it may be. Using this theme the user will be able to upload logo or favicon and much more. With most of its interesting features, you can design an awesome website for your business reviews. Few Significant Features about aReview theme is,
Social icons
Custom widgets
Full-color controls
Google Fonts
Translation Ready
Theme options and carousel
Rating: Not yet Rated
Rethink is the advanced and modern WordPress theme for the affiliate marketers and their websites. It is a complete package of WordPress to earn money through product reviews. A designing review site for the customer is considered as a great aspect in affiliate marketing since the customers feel more comfortable in purchasing the product after knowing the true review of your product, which is an added benefit for you. Rethink would be the perfect match for Affiliate marketers. Few significant features to be considered are,
Sliders to display 4 different images in home page
Link Cloaking Feature
Widgetized sidebar
Social Icons
Compatible on all devices and translation ready
SEO Optimized
Rating: 3 out of 5 stars

Dike is the modern WooCommerce WordPress theme that the user can use to build a professional online store for selling all kinds of products. Users can build websites with different niches and provides plenty of choices with the premade homepage layouts. It is a highly optimized theme and is compatible with all mobile devices. Few significant features of Dike theme are,
Powerful theme options
Mini cart and undo item remove
Premium plugins
One-click import
Megamenu builder
Add to cart and wish list
Rating: 4.5 out of 5 stars
The tech market is the electronics WordPress theme for affiliate marketing. It is a clean flexible and robust electronics store WordPress WooCommerce theme for any type of eCommerce store. Some of the significant features of this theme are,
Easy one-click installation and setup
8 different types of homepage
Responsive mega menu
WPML Compatible
YouTube like page loader
17 customized widgets
Rating: 5 out of 5 stars

Divi is one of the most powerful WordPress themes that support users to design affiliate-marketing websites easily. It can be easily customized and SEO optimized. It is the preferred theme by most of the affiliate marketers. If the user uses this theme then it is sure that they make the customers always engaged with their site. Here the theme is WYSIWYG; some of the elegant features of the theme are as follows,
Split testing
Lead generation
Social media integration
Translation ready
More customization options
Tailored WooCommerce integration, which makes easier to sell products online
Showcase the work to the world
Rating: 4.5 out of 5 stars
Yozi is the modern WordPress theme for Affiliate marketing which helps to create many online eCommerce stores. A highly optimized and responsive theme is well suited for all businesses. Easy and simple to implement without a single line of code. Some of the significant features of this theme are,
Customize google fonts
Completely responsive
Compatible on all devices
SEO optimized and user friendly
Rating: 4.5 out of 5 stars
Conclusion
The above-mentioned are few among the Leading Free WordPress themes that are best suited for affiliate marketing and eCommerce store, which enhances your business productivity and makes your site visually appealing.