Best Dropshipping Suppliers List in the UK [Free and Paid]
Making the right choice among the Best Dropshipping Suppliers in the UK is essential to the success of any online company operation. The top dropshipping providers can assist you in achieving your objectives, regardless of the sorts of items you offer or the speed with which you can get your products in front of prospective buyers.
As a result, in this post, we have created a list of the Best Dropshipping Suppliers in the United Kingdom, both free and paid, so that you may choose the most appropriate provider for your needs.
Dropshipping has grown in popularity as a profitable business for internet retailers. Various payment methods are available in E-Commerce Platforms and that makes the process so easy.
Because of this, small firms may obtain items at reduced rates from manufacturers all over the globe and then offer their products at competitive pricing in the retail sector – all without having to transport the products themselves.
Dropshipping enterprises may create up to 50 percent more revenues than merchants that retain an online inventory, according to industry estimates.
So, let's dive into the world of dropshipping!
Best eBay Dropshipping suppliers in UK
Here in this section, we have listed some of the best free dropshipping suppliers in the UK. The firms listed below are legitimate dropshipping companies that provide actual wholesale pricing, do not charge membership fees, and offer a large selection of items in every major area.
1. Puckator Dropship
Puckator Dropship is by far the most famous dropshipping seller of giftware and home décor in the United Kingdom, with hundreds of goods and decades of expertise in the industry.
Puckator provides hundreds of professionally designed goods, ranging from gothic decorations to fantasy figurines and printed pillows to vintage candle holders, among other things.
Pros:
A large number of goods are available. In addition, Puckator offers a large selection of high-quality items that you may dropship directly to clients in the United Kingdom.
Options for expedited shipment. Puckator offers rapid shipment to any location in the United Kingdom, with no paperwork or branding attached to the packages.
There are no membership costs. Puckator is entirely free to use, and you can start dropshipping items on any ecommerce platform, including marketplaces, immediately after joining.
There are a variety of payment alternatives. Puckator allows a variety of payment methods, including all major credit and debit cards and PayPal and Google Checkout. If you don't have paypal options, you don't want to worry now as there are lot of best alternatives for PayPal in UK to make the payments more safer and easier.
Cons:
Shipping prices are variable. The drawback of employing Puckator is that the delivery rates are inconsistent. Before you can view the total shipping cost, you must first add products to your shopping basket.
Location: Lowman Works, East Taphouse, Cornwall PL14 4NQ, England
2. Banggood
Banggood is gradually becoming the most popular dropshipping provider of best-selling Chinese items, thanks to its hundreds of low-cost products and several international warehouses in the United Kingdom and the European Union.
Among the benefits of Banggood's trade-only dropshipping programme are unique pricing, access to best-selling items, and bespoke packing notes, as well as a variety of tools for direct connection with significant selling channels like eBay and Shopify.
Pros
There are thousands of goods. The Banggood marketplace offers an unrivalled selection of items in every major category, whether you're selling apparel or gadgets.
Local delivery is quick. Banggood offers free shipping on all purchases and speedy delivery from a local UK warehouse through reputable carriers, all inside the United Kingdom.
Packaging that does not bear the company's logo. Everything is sent in plain packaging with no paper, so your consumers will believe they receive something straight from you.
Dropshipping is a kind of business model. For example, Banggood offers a free dropshipping programme that provides members with special discounts and access to cutting-edge dropshipping technology.
Cons
There is a limited amount of stock available in the United Kingdom. Only a few thousand goods are stored and dispatched from Banggood's UK warehouse, despite the company having more than 50,000 products.
Descriptions that are of poor quality. Most Banggood items feature illustrations that are either poorly written or very brief and often include spelling and grammatical problems.
3. GoDropship
GoDropship swiftly sprang to prominence as among the most popular dropshipping suppliers of low-cost Chinese goods, thanks to its low-cost Chinese items that are sent directly from a Manchester-based warehouse.
GoDropship offers a diverse selection of best-selling items ranging from electronics to home furnishings, sports equipment, and toys. Register for free and begin dropshipping the products on eBay, Amazon, or your own ecommerce website as soon as possible.
Pros
The number of items is increasing. Since its inception in 2017, GoDropship has been aggressively extending its product line to include the most popular things.
Free shipping to the United Kingdom. GoDropship offers quick and free delivery inside the United Kingdom mainland, utilising Royal Mail, Hermes, and DPD as delivery carriers.
It is appropriate for all vendors. GoDropship is a dropshipping service provider that serves over 7000 companies, including eBay and Amazon merchants.
Notifications are sent through email. With GoDropship, you can set up email alerts to get information when prices and stock levels fluctuate.
Cons
Returns that are not requested will not be accepted. GoDropship offers a 30-day money-back guarantee on all of its products. Items that are not faulty, on the other hand, must be returned directly to the dropshipper.
Location: No. 3218, 32nd Floor, Building 1, New City Building, No.39 Qinlin Road, Nanshan District, Shenzhen
4. TBTrade
As TBTrade, a UK-based retail firm renowned for its dropshipping programme, which provides exclusive trade discounts, unbranded order packing and free UK delivery and downloadable CSV data feeds, is also recognised for its TekBox brand.
Pros
Prices are only available to trade customers. However, the dropshipping programme provides you with access to unique trade rates on all TBTrade items once you enrol in it.
Shipping is quick and free. TBTrade offers quick and free UK delivery for all items, with purchases shipped in plain packaging to avoid brand recognition.
CSV data streams are available. In addition, you may have access to CSV data feeds that provide regularly updated product information that you can use to post to your sales channel.
The company has a good reputation. On TrustPilot, TBTrade has received an overwhelmingly positive 4.7-star rating from more than 100 genuine consumers.
Cons
Even though TBTrade offers unique discounts to dropshippers, the retail website is available for purchase by the general public.
Location: TB Trade (Tekbox Ltd), The Granary, Grange Farm Business Park, Woodhurst, Cambridgeshire, PE28 3BQ, United Kingdom
5. Furniture to Go
Furniture to go was founded in 2012 and is a wholesaler and dropshipping supplier of high-quality furnishings for the home or garden that exclusively sells to other businesses in the trade.
We provide everything you need to start and run a successful online furniture company with high-resolution product photos, professional product descriptions, product data files (including stock feeds), and downloadable stock and pricing lists.
Pros
A licenced and bonded furniture supplier with more than ten years of industry expertise.
Dropshipping is a kind of service. Furniture to Go is a professional dropshipping business based in the United Kingdom, with the next delivery available for certain items.
Data that may be downloaded Furniture to Go enables you to download product data, including high-resolution pictures instantly, stock feeds, and pricing lists, among other things.
Cons
There is no exchange or refund policy. Furniture to Go does not accept items that have reached the end of their useful life. Returns must be accepted and returned to your warehouse or storage facility unless you have a special arrangement with the customer. If you're a new business, it's possible you won't have storage capacity.
6. SaleHoo
Drop shippers may find suppliers on Salehoo, which is a wholesale supplier directory that links them with a diverse range of various sorts of wholesale suppliers.
Despite the fact that Salehoo is a New Zealand-based firm, they nevertheless have a number of vendors from the United Kingdom listed in its supplier directory. So if you're looking for wholesale suppliers in the United Kingdom, they may help you out as well.
Pros:
A supplier who has been verified. It is unnecessary to be concerned about fraud when collaborating with a provider from the Salehoo database of vendors and suppliers. Salehoo conducts a comprehensive investigation of each supplier before including them in their supplier database.
Guaranteed 100 per cent customer satisfaction. Following your trial period, you can simply write an email to Salehoo to request a refund of your money.
Excellent service to the client. The majority of the customers who leave reviews on Trustpilot for Salehoo express gratitude for the company's excellent customer service personnel.
Cons:
This is nothing more than a supplier directory. Perhaps you can identify a provider for your goods by doing an intensive (Google) search yourself.
Salehoo Pricing: Salehoo charges a one-time fee of $ 67 for one year of service. Obtain lifetime access for as little as $ 127.
Location: 41072, Christchurch 8247, CT, NZ
7. Printful
Dropshipping firm Printful is well-known for its "Print on Demand" sales. If you want to sell accessories, garments, and other creative items made from your own ideas, Printful may be the perfect option for you. You may find a plethora of possibilities, and Printful is the industry leader in print-on-demand solutions.
Owners of online stores may use Printful's specific services, including designer assistance and white label printing. Depending on the sort of items you want to sell, the amount of money you spend on printing and manufacturing will significantly affect your overall costs.
Pros: 
Branding services are offered.
Packages that are damaged or lost are covered under our guarantee policy.
Products of high quality that are sold with a white label
Integrations with well-known software platforms
There are several customisation possibilities.
Cons: 
Some items have a high initial cost.
Designed chiefly for designers and other creatives.
Location: Antar 2, 1 Headway Road, Wolverhampton, WV10 6PZ
8. AliExpress
Liquidation and wholesale marketplace AliExpress links dropshippers with suppliers as well as a variety of items such as household goods, apparel, and gadgets. In addition, suppliers on AliExpress have begun providing shipping from warehouses outside of China, such as those in the United Kingdom and the United States!
Pros: 
The bulk of AliExpress items is competitively priced. That will increase your profit margin. For tips on increasing your profit margin, see this post.
Products in a number of categories are available. AliExpress, without a doubt, offers the widest selection of items accessible anywhere around the globe.
There is a potential that you get refunded for your money.
Cons: 
Always check that a vendor is sending their items from the United Kingdom before doing business with them.
When you utilise AliExpress product photos in your online shop, anybody may go to AliExpress and find the exact same thing at a lesser price than what you are charging in your store. Consequently, we strongly encourage you to take your own product photographs.
Amazon Dropshipping Suppliers in UK
1. Avasam
Avasam is one of the most effective platforms for identifying the top dropshipping providers in the United Kingdom, according to the company. It enables you to create automated eCommerce enterprises that provide speedy delivery options. It is in charge of everything, from procuring high-quality items to providing after-sales service and assistance.
Avasam provides a broad range of product categories, the majority of which have 40% to 50% margins, allowing for dropshipping, advertising, and other marketing expenditures to be made. Using Avasam, you can simply estimate the selling price by looking at both the source product's pricing and the RRP (Recommended Retail Price).
With a few simple clicks, you may add goods to your shop using the listing manager located on the administrative dashboard of your website.
Pros: 
Exceptional customer service. When analysing Avasam's Trustpilot evaluations, it was clear that practically everyone praised the company's excellent customer service staff.
Because of Avasam's supplier verification methodology, every provider on the platform can be relied on to deliver on their promises.
Integration is important. Avasam's integration capabilities are unrivalled in the industry. A total of more than 60 connectors are available from no other dropshipping platform provider.
Cons: 
For the time being, Avasam is exclusively shipping to the United Kingdom.
PayPal is a payment processor. Avasam does not accept payments using PayPal.
Location: Oliver business park, 9, London NW10 7JB, United Kingdom
2. SourceLow
SourceLow is a free wholesale and dropshipping directory that links business-to-business customers with premier suppliers situated in the United Kingdom, the United States, and China.
With thousands of dropshipping suppliers and millions of low-cost wholesale items to choose from, SourceLow is the ideal platform for individuals wishing to rapidly locate reputable suppliers in any area without having to pay membership fees to a trade association.
Simply enter a product or speciality into the search bar, and you will be presented with a list of top dropshipping providers in a variety of locales. You may also narrow the results by firm type and area, for example, 'dropshippers in the United Kingdom. '
Pros: 
It is entirely free to use. SourceLow, in contrast to other directories, is fully free to access and use. There are no membership costs, and you may identify acceptable vendors in a matter of minutes with no effort.
Suppliers who may be trusted All of the suppliers listed on SourceLow are reputable and verified businesses that provide actual wholesale rates on high-quality items at competitive prices.
SourceLow is a global directory that contains thousands of major dropshipping suppliers from all around the world, including the United Kingdom, the United States, and the European Union.
Cons:
The directory is not as vast as some other directories. SourceLow is a new firm in the market. They do not have as many vendors as they would like. The website is rapidly expanding, with new providers added on a regular basis.
3. Modalyst
When it comes to dropshipping solutions that are built to operate with certain shop building services, Modalyst is a plug-in that was created exclusively for the Wix store building service. This useful plugin assists you in automating your dropshipping selling company by linking you to suppliers that can assist your consumers in obtaining the things they want via your website.
Modalyst is a software that automates the dropshipping process for internet retailers. It is well-known for supplying items from well-known brands like Calvin Klein, DSquare, Dolce & Gabbana, and others that buyers will love. Modalyst also gives a list of independent fashion businesses that have been handpicked for each target group.
Pros: 
A vast range of high-quality items is available.
In addition, Dropshipping programmes with a white label are available.
Very high-profit margins
More efficient transportation
Cons: 
There are just a few things available under the more affordable options.
A 5% transaction charge is applied to all levels of participation.
4. Jungle Scout
Do you sell your products on Amazon as dropshippers? Alternatively, do you intend to dropship on Amazon? In such a case, you should refrain from doing the same thing without first checking out Jungle Scout.
Jungle Scout is a tool that assists you in identifying valuable products and niche opportunities. Additionally, it assists you in locating certified suppliers for your items. What's the greatest part? It has a close relationship with Amazon. As a result, you can keep track of your Amazon items right from your Jungle Scout dashboard.
Jungle Scout obtains all of its information from the Amazon marketplace and hence says that its database is reliable. It assists you in identifying Amazon items that are in high demand but face little competition; high demand but suffer from poor marketing; high demand but provide a strong return on investment; and high demand but offer poor product quality.
Pros:
Product research and tracking tools based on a database of more than 500 million Amazon goods
Database of suppliers Product opportunity and niche discovery tool
It is compatible with Amazon.
Amazon merchants now have a comprehensive selling tool at their disposal.
There is a Chrome add-on included.
Customer service is available through email.
Cons:
If you are not already selling on Amazon or do not intend to sell on Amazon, this is not a very relevant tool.
5. Inventory Source
Inventory Source is an E-commerce software platform for dropshippers that is specifically designed to help them manage their inventories more effectively.
It helps to dropship ecommerce businesses to conduct their operations in a more organised and effective manner. Why? As a result of the fact that it monitors, combines, and updates product data. This is done from the user's dropship providers all the way through to its sales platform. Dropshipping has made it feasible to possess a full inventory of items without having to store them in a physical warehouse or warehouse facility.
Inventory Source has been a supplier of dropshipping data solutions for almost a quarter-century. It is difficult to come up with a better answer for this particular situation. It has been in operation for more than two decades. Jacksonville, Florida, serves as the organization's headquarters. It makes use of the most up-to-date and cutting-edge technologies.
It facilitates the connection of E-commerce sellers with wholesalers in a coordinated manner. Its goal is to make the relationship between E-commerce merchants and wholesalers more convenient for everyone. This tool helps to make the interaction as smooth as possible for everyone involved. It looks to be a fairly successful strategy for the majority of deals.
Pros:
Dropshipping is made considerably simpler with the help of their integrated automation.
There is a different cost for each and every customer. If you obtain items from more than one customer, you will quickly discover that the costs are piling up quickly.
There is no free market research tool available with the product.
The second benefit is that it is automated.
In every instance, the support crew answers within a fair timeline.
Cons:
One-to-one mapping of SKUs to the source is not available.
Shopify Dropshipping Suppliers UK
1. Spocket
Spocket is a web-based dropshipping solution that can be integrated with Shopify, Bigcommerce, Wix, Squarespace, and other shops, among other platforms. You may submit your portfolio to the store to sell straight from it, much as you can with Oberlo, or you can upload it to Amazon to sell directly from it (manually).
Spocket is trusted by over 60.000 dropshippers throughout the globe and offers distinctive items, some of which are created in the United Kingdom or Australia, ensuring that you are not limited to just Chinese or Indian manufactured products. The concept that they offer unique goods is also a plus since you are not just reselling items that are available on Alibaba to everyone.
This is one of the greatest sites to obtain unique items since the product quality is superior to those of comparable businesses such as VidaXL or BestBuy, and the prices are competitive.
Pricing:
From the free plan to the Empire Plan ($99,99 / month), which includes access to 10,000 unique items, 10,000 premium products, Branded invoicing, and Chat assistance, there are four price categories to choose from. There is a 14-day no-obligation trial period available. There is no need to use a credit card.
2. CROV
CROV provides merchants with a diverse choice of items from a pre-screened list of dropshipping wholesalers in the United States. Adding goods to your business and automating orders with this free Shopify software is another way to save money.
Shipment choices and locations: Shipping is offered in 42 countries. The dropshipping costs are determined by the product suppliers and their shipping methods, which you may find on the product details pages of each product in the directory. CROV maintains a warehouse in the United States, allowing them to dispatch orders to customers in the United States more quickly.
Product categories: CROV provides more than 35,000 goods from chosen vendors in more than 20 distinct trending categories, updated daily.
Ecommerce retailers that wish to offer unique items on Shopify, Amazon, and eBay are advised to use this service.
3. Worldwide Brands
Worldwide Brands, which was founded in 1999, is one of the oldest and most well-known supplier directories on the internet. To assure reputable, high-quality wholesalers, the company promotes that it only includes suppliers that adhere to a set of requirements. We found the dropshipping vendor directory beneficial when looking for reputable wholesalers and brainstorming speciality ideas in the past.
Worldwide Brands services stores all around the globe, and they provide a variety of delivery choices. The firm is a supplier directory, meaning shipping charges and delivery areas are determined by the dropshipping wholesale supplier that you locate via the website.
Product types: While the directory does not contain some of the dropshipping sellers we have had experience with, it provides a significant list of trustworthy wholesale dropshippers to consider. There are more than 16 million approved wholesale goods to pick from in a variety of areas, such as pet supplies, jewelry and watches, consumer electronics, home décor, fashion, and other items, among others.
The Worldwide Brands wholesale supplier directory is recommended for those who want lifelong access to a high-quality wholesale supplier directory and are okay with a more fantastic one-time purchase.
Location:
Worldwide Brands, Inc. 465 S. Orlando Ave. #209, Maitland, Florida 32751
4. Oberlo
Oberlo is yet another excellent option if you want to dropship straight from your Shopify shop anytime a customer places an order with you.
Oberlo is similar to Salehoo in that you just link it to your Shopify shop and source the items. The goods may then be imported straight into your Shopify shop, where you can customise the names, descriptions, and, of course, prices to your liking. When a consumer places an order, you just order the product back from Alibaba or Aliexpress, and the manufacturer will ship it to your customer.
As a Shopify characteristic, Oberlo was launched in September 2015 with the specific objective of catering to regional and international online retailers in a specialised manner. The company says that more than 85 million goods have been sold over the platform as of this writing.
Oberlo does not need the establishment of a physical shop in addition to your online business. According to the company's concept, it is possible for the seller to make an order directly with a wholesale supplier and have it sent straight to the client without any delays.
5.  Dropship Spy
Dropship Spy is a drop ship product research tool that gathers information from Shopify and AliExpress businesses.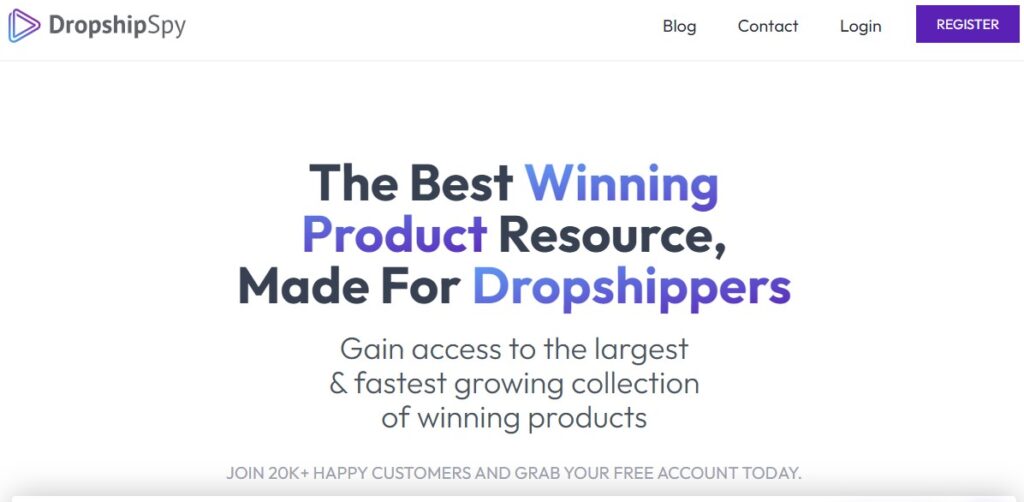 The following are some of the advantages of doing product research using Dropship Spy:
It facilitates the discovery of popular items in an instant.
Produces product videos for use in Facebook advertisements.
Discover information about any store's traffic sources, sales, best-selling goods, and more.
You may get crucial sales information for each AliExpress good.
Training and a discussion forum are included.
Customer service is available through email.
Pros:
Product discovery software is very effective at identifying popular and best-selling items.
Integrated with Shopify Training sessions and forum help are available.
Cons:
There is no supplier database.
Only a limited amount of goods are available.
Tips to Succeed in the UK Dropshipping Business
It could be intimidating if you're just starting to start in the dropshipping market. It takes some time to get used to the model and choose suppliers and items that are a good match for your business and your customers' preferences.
Learn about your speciality – by concentrating your efforts on one or two niches that you are familiar with, you will be able to focus on high-selling, high-profit goods and establish a foothold in certain marketplaces.
Test your product – the product is critical when it comes to the buyer's perspective. The quality of your product is crucial since people will not return it if it is not of excellent quality and does not match the description you provide in your shop. If it is not, you will lose customers.
Don't restrict your options when it comes to dropship providers. Various dropship suppliers have different benefits. When you're just starting out, it's good to experiment with a few other possibilities to determine which ones work best with your company plan.
Suppose you're selling things that are widely available elsewhere. In that case, you'll need to differentiate your business by branding it, creating unique product descriptions, and presenting it distinctly from the other retailers on the market.
Automatically order from your suppliers – when you start receiving many orders, manually purchasing from your suppliers may become a time-consuming chore. To simplify, automate the process so that orders are placed immediately as soon as the consumer completes the checkout procedure.
Conclusion
Dropshipping gives ecommerce merchants the freedom they want to start a company from the bottom up and grow it into a successful enterprise. Product inventory, packing, and even shipping items are not required in this scenario.
There are several methods by which companies achieve success with this strategy, but the one thing they all have in common is the selection of the most appropriate suppliers. You may find possible drop ship providers by searching Google, attending trade exhibitions, and monitoring your competitors, among other methods.
Dropshipping directories are an excellent place to start for those new to the business. You may not only evaluate various suppliers, but they also supply you with all of the product information you need to get started selling right away.
eBay and Amazon are the most dominating sellers in UK. Still there are powerful Alternatives for Amazon in UK who can offer things through online ecommerce store better than them.
We hope that our List of Best Dropshipping Suppliers in the UK will help you find the most suitable supplier for your business. Good luck!