We all know that Amazon is one of the largest and popular e-Commerce online shopping website well known for having its millions of products for their customers with good functionality and customer service that makes harder to look into other best alternatives or competitors. They also provide a facility for the users to buy or sell products in a wide selection.
Despite all these, there are situations when consumers feel the product is too expensive or pay more for shipping charges where one cannot haggle over them. So here we compiled the best alternatives for Amazon in the UK specifically for the people in the UK, which are similar to Amazon and even sometimes be as the best choice for people by lowering the cost of products based on alternatives for fashion and lifestyle, technology, unique presents and even for household and grocery shopping.
Best Alternative Websites List for Amazon UK
In the United Kingdom, Purchasing the best product is made easy by Online Stores & E-Commerce Websites. Even the startup businesses depending a lot on such online businesses to sell their products because they don't have individual brand promotion during the start.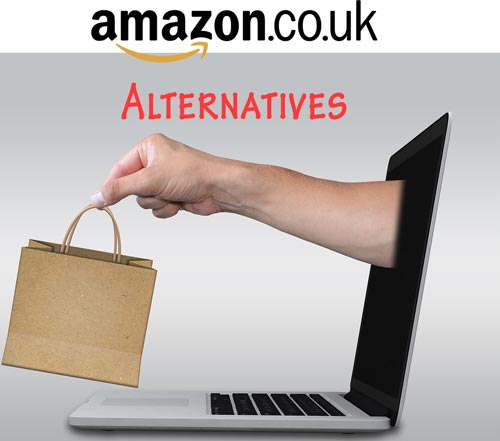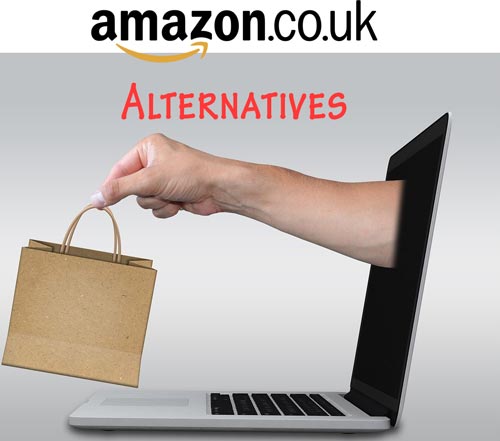 There are various Online Shopping Sites in the UK and Amazon UK is one of the best shopping websites. We can't depend on them alone and here are the alternatives that give us an additional option to decide the best.
1. Boohoo
Boohoo is one of the fashion bestie alternative sites for Amazon in the UK, ever since form 2006. They focus mainly on the age group of 16- 30 years of people and work 24/7, who are specialized in own branding with nearly 500 new products that appear on site every week which makes the consumers have the latest looks for less. Every individual can have the wardrobe of their dream by shopping at Boohoo. It also has won a number of awards one among that is City A. M's Business of the Year Award in 2017. Always provide a sales offer to start from 20% off. One great advantage is that if you purchase the Boohoo Premier for £9.99, then it allows you to enjoy unlimited next day delivery for the whole year, if not next day delivery charge would be around £5.99 for each time you order. It also provides a return procedure within 14 days for free.
2. Etsy
Etsy is well known for its handmade goods, vintage items, and craft supplies and act as the best alternative for Amazon. It is a global marketplace for unique and creative goods. They help their community of sellers turn their ideas into successful businesses. Etsy platform connects with millions of buyers looking for an alternative and a special human touch in all products. The Alexa ranking is 79 in the UK and one more additive information is that it does not permit Mass-produced items.
3. Rakuten
Rakuten is named since 2010 were previously called Buy.com and was launched in the year of 1997. Rakuten connects business with potential customers but does not sell the product. They provide a wide variety of products which include Fashion, lifestyle accessories, entertainment, electrical, home & garden, footwear, leisure, jewelry, toys, travel, gifts, among many more. Rakuten boasts video reviews for a few products which are more helpful for the customers to purchase products who are rewarded with "Super points" for each purchase. One of the best alternative e-Commerce sites for Amazon in the UK with daily deals to help merchants attract attention.
4. Newegg
Newegg launched in 2000 is another great alternative site for Amazon where it sells only electronic goods. Few categories to be mentioned are gaming, software & services, automotive & industrial, hobbies & toys, and much more. In 2005 it was named one of the top internet's top 10 retailers. It has also won awards for Computer Shopper Shopper's Choice Awards in 2011, 2008, 2007, 2006, 2005, 2004, and 2003. Newegg is well known for its fastest delivery and amazing customer service as of Amazon. It has also planned to expand globally in almost 50 countries all over the world. Provides weekly Livestream of tech commentary and reviews and 3 days free shipping on all orders.
5. Fruugo
Fruugo is a unique and global marketplace that simplifies products around the world. It provides a wide variety of choices for customers and the freedom to shop safely from wherever you are. It has been rated excellent on Trustpilot with almost 1,000,000 deals and discounts. Fruugo is again a top alternative for Amazon in the UK, which provides big savings for people on your favorite brands. The additive feature of Fruugo is you will be able to translate and sell your items in 11 different languages which would be a great surprise for many. No joining or listing fees and it is a marketplace worth for selling.
6. ASOS
ASOS (As seen On Screen) is one of the best online fashion cosmetics retailers found in the year 2000. It sells around 850 Brands and also offerings of its own range of clothing and accessories. Based on certain deals students get to offer up to 10% or 20% on season sales. If purchased premier delivery for £9.95 then one-year unlimited next day free delivery would be offered otherwise it costs £5.95 or if your purchase exceeds £25 then you would certainly get free delivery. Also, ASOS provides 28 days' free return policy. One more added feature is that click and collects you can choose your collection point to pick up your order.
7. onBuy
onBuy is an innovative and rapidly growing marketplace in the UK and also the best direct Amazon alternative. Here the competitive seller's fees mean savings for whatever you buy. One of the online marketplaces has everything from pet supplies and homeware to beauty and toys – provides a wide variety of fantastic choices for the consumers and even better value.
8. Currys PC World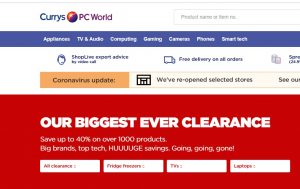 Currys PC world is the combination of Currys and PC world which was established in 2015 and is a leading global marketplace and an alternative for Amazon in the UK. Consumers can find all products from the kitchen to computer accessories everything in a single superstore in one place for easy shopping. Moreover, it provides free delivery on all orders and costs £4 to £10 for next day delivery and same-day delivery respectively. Currys PC world also provides 21 days' free return policy and extends the time on certain occasions like Christmas. Team Knowhow is available 24/7 for the repair of a wide range of products and keeps customers happy and peace of mind even after purchase. The recycling process is done perfectly while delivering new appliances.
9. eBay
eBay was launched in the year of 1995 and it is an "Auction web" and a well-known alternative for Amazon. In general, it acts as an intermediary between the seller and the buyer. The consumers have two options to purchase the product either by buying it now option or winning an auction. It also provides the best offer and helps to find great bargains. You can find all category products in a single place and enjoy shopping. It also ensures eBay money-back guarantee, if suppose the customer does not receive the product or wasn't described properly. Best choice for Online business like Affiliate marketing which is one of the options to start your online business.
10. Iceland
Iceland is the leading marketplace in the top list of UK's best supermarkets and the best choice of Amazon alternative. While shopping if you spend more than £35 then you are eligible for free door delivery at your doorstep. Iceland is engaged in "no palm oil" which saves rainforest and has replaced palm oil from its own products. In the year of 2018, Iceland has won the Grocer Gold Award and it boasts its own luxury range in all products. It also provides bonus cards for extra savings.
Comparison of Alternative Websites for Amazon UK
Below given are the details of the products chosen best in the site and their delivery procedures and the service they render to the customers, which would help you to choose the best based on your choice of shopping.
| | | | |
| --- | --- | --- | --- |
| Top 10 Alternative e-Commerce site for Amazon UK | Best suits for | Delivery | Customer Service |
| Boohoo | Fashion Retailer | Next day delivery: £5.99. Standard delivery: £3.99. Free next-day delivery with Boohoo Premier | Amazing |
| Etsy | Handmade Goods and Crafts | Depends on the seller | Great |
| Rakuten | Clothing and Home | Depends on the seller | Good |
| Newegg | Electronic Goods | It depends on the product and for a few items, it is free. | Good |
| Fruugo | (All) Unique and Global Marketplace. | Safe Delivery. Free delivery for certain products. | Good |
| ASOS | Fashion and Cosmetic Retailer | Next day delivery: £5.95. Standard delivery: £3 (or free over £25). Free next-day delivery with Premier Delivery | Good |
| onBuy | (All)Global Marketplace – Shopping saves money | Depend on the seller | Great |
| Currys PC World | Kitchen & Computer accessories | Free standard delivery on all items. Quicker delivery for small items: £4 – £10. Quicker delivery for large items: £20 – £40. | Good |
| eBay | Bidding on Anything | Depend on the seller | Good |
| Iceland | Grocery items | More than £35 free delivery | Good |
To conclude, these are the top 10 leading e-Commerce sites which would be the best alternative for Amazon in the UK. Enjoy Shopping and lead a happy life.