Restaurant is a very tough business to launch, promote and run. Your restaurant needs to have a minimum number of footfall and orders to break even whereas to be profitable is a different story altogether. You might be serving great food at decent pricing but still not be able to keep it afloat. One of the biggest reasons a restaurant fails is because of lack of marketing. Quality, Price and Marketing are the three pillars for any food business to run.
Few years back it was not so important to use digital marketing – your hospital staff and proficient service spoke for itself. But recently, almost 50-60% of food orders are delivery and placed online, which means more than half of your customers don't even get to see your restaurant, let alone experience the ambiance or fresh-out-of-the-kitchen food.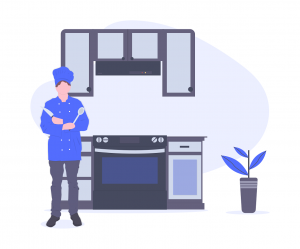 Digital Marketing can never replace conventional strategies, so you need to make sure you're doing a few things the conventional way, and complimenting them with your digital strategy. Let's discuss a few strategies – both digital & conventional – which are bound to increase customers for your restaurant.
Colour scheme & typography
Create a brand language (logo, colours, fonts, backgrounds) which reflect your idea and appeal to your target demographics. For example, Wendy's has a red colour scheme and they make sure they use the red colour in one way or the other.
Know your customer
This is very important and surprisingly undervalued. Knowing your customers personally makes them feel valued. Collect their names, email addresses and telephone numbers to contact them later for feedback, offers and promotions based on their birthdays and anniversaries or otherwise. You might not need it right now, but you will definitely require that data as you grow. POSIST is one of the most famous & recommended tools for this.
Hiring Agencies or Consulting Experts
There are many marketing agencies specializing only in food businesses which can help you plan strategies, if you do not want to spend a lot of money in hiring agencies you can also consult experts in the field through websites like Smooper and build some great digital marketing strategies
Organise Meetups: 
Meetups are an awesome way to advertise! You get a lot of customers. Organize meetups at your place, offering special discounts, promote the meetups on social media and soon your restaurant could become the 'meetup' hub of the neighborhood.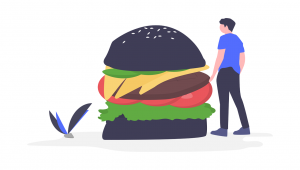 Google Business
Your restaurant should be listed on Google Business and should have the correct location on Google Maps. It becomes easier for walk-in customers to find your place as well as increases trust and authenticity for deliveries.
Photography
All restaurants understand that beautiful presentation of food goes in hand with its appetizing taste to make chef's work a success. We cannot sell taste on social media, so why not attract people by the presentation of our exquisite food?
Loyalty Programs 
Reward your customers for being regular at your eatery at the same time motivate them to be regular. The expenses for this loyalty program are next to nothing. Keep a record of your regular customers and express your gratitude by a complimentary snack. Try to use a points-based loyalty monitoring software, it ensures that your customers always ask for a bill (so that their points are credited) and saves you from fraud. The image below shows a loyalty card where customers can get free items depending upon the number of purchases.
Local Bloggers
Food bloggers have now become a necessity but you don't always have to run paid promotions with them. You can write a essay for them as a guest blogger and in return be featured in their blogs. A great way to become popular in 'foodie' community.
Down Time Promotions
Every food business has a time when it's not busy, find that time for your business and run attractive discounts during that specific time like Happy Hours at pubs.
Food delivery apps
Collaborating with food delivery apps has become a necessity for food businesses. Make sure you have great photographs and complete profiles on these apps. Many people discover restaurants through these apps alone. With each app, comes a certain level of complications, and so it's not always 'the more the merrier' in this field. You need to ensure that the delivery app does justice to your restaurant, has a good pickup timing and a good customer service in case of problems with orders.
Instagram
Instagram totally loves food! But to get enough visibility make sure you have some great hashtags and location so that you target right audience. Short videos are extremely important and underrated on Instagram. An example can be some behind the scene videos of cooking, packing etc. You will definitely get new customers and hold on to the existing ones.
Other social media channels
Facebook is a great platform if you want to run targeted advertisements,  you can upload some nice recipe videos or tutorials on YouTube for some fan following, keep tweeting on twitter or put some awesome pictures on Pinterest! All these platforms give you visibility and help you build a community.