There are many lead generation tools that amplify brand awareness. These alternatives attract visitors to your website, convert them into leads and nurture a base of loyal customers. Plus, these tools collect key customer information throughout the buying process, providing advanced insights on traffic and visitors. As a marketer, you can drive more leads to sign up, purchase your products, or engage with your brand using these platforms. In fact, you can use a wide range of tools to attract and engage new leads across multiple channels. In this post, we will discuss several alternative lead generation tools to amplify brand awareness.
Amplify Brand Awareness With Lead Generation Tools
1. Email Campaign Tools
Email campaign platforms are an alternative lead generation tool that amplifies brand exposure and awareness. These tools can add personalization, optimization, and automation to your cold email outreach campaigns. Of course, these outreach capabilities drive content promotion, public relations, lead generation, and brand awareness. Additionally, many of these tools provide a variety of off-the-shelf templates. Using these templates, you can improve the design, professionalism, and credibility of your emails in minutes. With a more consistent and reputable feel, your email outreach will receive a much higher response rate. With more responses, this tool can turn your outreach efforts into a profitable sales development strategy. Surely, you can capture, manage, and convert more leads using email campaigns and outreach tools.
2. Social Media Quiz Tools
Second, many marketers use social media quiz platforms as an alternative lead generation tool. When offering social media followers a quiz, you gather their contact information and learn more about them. Upon taking the quiz, request their information to view the results. In fact, you should only share quiz results with leads who provide information such as their name, email, or other contact information. This way, you can follow up with participants based on the quiz answers. You also learn important, unique information about individual leads, such as their location, occupation, and personal preferences. Leverage insights from both sides of the pipeline to find unique use cases for your brand. Then, personalize these use cases to the needs and preferences of specific leads. When presented with a unique, personalized use case, leads become much more likely to purchase. Absolutely, business social media marketing quiz platforms provide useful brand awareness and lead generation insights.
3. Lead Nurturing Tools
Third, some lead nurturing tools use AI to assist in building brand awareness. While Conversica is a popular lead nurturing tool, there are several alternatives using AI to improve their features. Often, this AI uses contextual, personalized follow-ups and responses to customer inquiries. This way, you build more productive lead pipelines, automate 24/7 lead qualification, and facilitate control of the entire funnel. Additionally, many of the Conversica alternative lead nurturing tools leverage AI to ask qualifying questions of prospective leads. Of course, these questions determine the lead's position in the pipeline. Moreover, they allow active nurturing using human-like interactions. These human-like interactions drive more generated leads through your pipeline funnel.
4. Video Software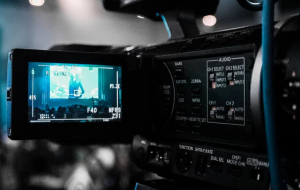 In addition, generate leads using video software tools to build brand awareness in alternative ways. Using this software, you can create informative videos regarding your brand and products. These videos inform prospective leads on how to use your products, potential use cases, and their design intentions. Moreover, several video creation platforms record both your screen and a camera. This way, your videos convey deeper looks into how your products work, while maintaining human interaction. The combination of human touch and product demonstration typically makes leads more likely to purchase your branded products. Furthermore, you can reach a wider audience using video tutorials and walkthroughs. Assuredly, advanced video software tools secure more leads and increase productivity for business.
5. Website Visitor Identification Platforms
Next, many alternative tools leverage website visitor identification for lead generation campaigns. Using these solutions, you identify companies that visit your website, without any input on their part. In fact, some visitor identification platforms find the contact information of individual employees from visiting companies. This way, you can follow up with these specific visitors or representatives at the company. The outreach should be strategically timed based on these insights. In addition, these platforms integrate seamlessly with many popular customer relationship management solutions, so their valuable insights can be acted upon immediately. Definitely, website visitor identification provides several useful insights on the leads you generate, follow up and close on.
There are several alternative lead generation tools that can amplify brand awareness. For example, you can personalize, optimize, and facilitate cold email outreach using email campaigns solutions. Second, social media quizzing platforms incentivize leads to provide valuable information and insights. Third, AI assistance tools facilitate human-like interactions, automate 24/7 lead generation, and build more productive pipelines. Next, website visitor identification allows you to see who visits your sites, and strategically time outreach. Finally, informative, personal video content offers product demonstrations and instructions that drive traffic and brand awareness. Of course, these alternative tools secure, qualify, and capitalize on generated leads to build awareness for your brand.