Do you run a cleaning business? Are you thinking of setting up a cleaning business? Either way, in this post we are going to show you how you can make a cleaning business extremely profitable.
Cleaners can generate business in both the commercial and the domestic markets. Here are strategies to grow a business and increase revenues.
1) Get regular contract business
What is key for the survival of a business of this nature is regular or contract work. Weekly, biweekly or monthly cleaning services is key to maintain a constant cashflow for your business. You can offer contract work to domestic and commercial customers in your area and agree a billing set up so you can get paid on a regular basis.
2) Start upselling
Upselling cleaning services to your existing customers is a proven way to increase profits. For customers you could offer services such as the following:
Oven cleaning
Oven cleaning can be a gruelling task for homeowners. Burnt on food and fat is difficult to clean off if you do not have the right cleaning products or cleaning tools. This is a great upsell as it is a task a lot of homeowners do not like doing.
If you have a hotel or restaurant client, this is a great service that you can offer.
Window cleaning
Offering a window cleaning service can be a lucrative upsell for any cleaning business. Usually you would offer window cleaning on a monthly or quarterly contract. The more windows the client has, the more that you can charge.
Grass cutting
If you clean inside a house, why not do an external building service such as grass cutting. It is likely that your domestic client will have a lawn and if your commercial client has grass around their property, this is a great way for you to make some extra money.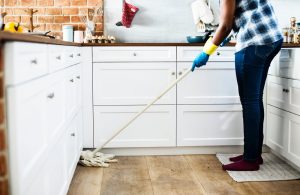 3) Hire staff members
The more staff members that you have, the more money you will earn. If you have lots of business coming, the last thing you want is to turn away new customers. If you hire staff who have experience in previous cleaning jobs, then you can gradually expand your cleaning business. Of course you will have extra outgoings to pay your staff, but this offers more flexibility to you and you can work on other areas of your business to grow it.
4) Quality cleaning equipment
You will have to invest in cleaning equipment at some point for your business. You should be strategic about what you invest in. Can you buy items that will lead to new opportunities for increasing productivity, allowing you to offer new services (for example, buying a floor buffer allows you to offer a floor buffering service).
It is also important that you buy quality equipment as the last thing you want is to spend more money on repairs.
5) Market your business
The best way to increase the revenue of your business is to market your cleaning business to the right customers. Today there are lots of ways that you can market your business;
You can have your own website and market your business with SEO. Pay per click advertising is an effective way to help you grow your business.
Get on free classifieds websites to help gain exposure from people who may be searching for services like those you offer.
Social media sites such as Facebook is also a great way to target customers.
Marketing your business the right way can greatly help you expand your business and increase revenues.
If you own a cleaning business, there are lots of ways that you can increase your revenues. If you are thinking of starting a cleaning service, it is indeed a good business to start.