Things are going great in your small business, but could they go better? While there is always room for improvement, there is also always a danger of breaking what is working just fine while overlooking the real areas that need to be addressed. Below are areas you can evaluate and consider improvements for your customers, your employees, and your organization overall.
Improve Your Tech
Upgrading your tech can be a great way to cut costs and save time if you choose the right kind of tech. Software that can batch or automate elements of your accounting can simplify your financial processes. When it comes to fleet management, compliance is necessary, and tachograph analysis software can provide an all-in-one compliance solution. A good customer relationship system is an excellent way to make it easy for service representatives to access information about customers in a single place.
Reduce Costs
Costs are always a concern for any business but figuring out how to control them effectively is another challenge. Cut the wrong things and you risk starving your business of necessary resources. You should invest in skills management, but how much, and when, and for which departments. There are a few ways to determine where you could save money. Make sure that even if you have an accountant, a bookkeeper or an accounting staff, you know exactly where your money is going. You could talk to customers and employees to help you determine what is most important to them and what you might be spending money on that they could just as easily do without. Another thing to look at is your cash flow. If you don't have much cash on hand, consider how you could build a reserve.
Improve Your Online Presence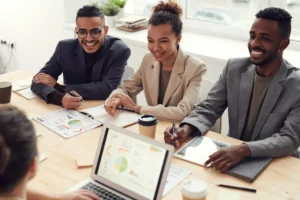 There are two main elements to this, your website, and your social media. If your website is out of date, it can reflect badly on your business even if digital is not a big part of your company's identity. Make sure it's mobile-friendly, and if people can purchase things there, the process should be an easy one. What about your social media presence? Again, it's fine if you want to have a fairly minimal one, but if there are platforms you haven't posted to in months or years, consider either closing your account or hiring someone to manage them. If you really aren't sure how social media or being online can fit into your overall business plan, you may want to discuss it with a consultant. There are options for free TikTok advice, or advice for other platforms but strongly consider sending a bit of money to optimize this area of your business.
Increase Your Marketing
How can you reach more customers? How can you keep the ones you already have? Some of the answers to these questions may go hand in hand with improving your online presence. You may want to consider creating an email list, working with influencers or strengthening your content marketing by starting a blog on your website that offers posts that are interesting or useful to your customers. You can also look at whether there might be other approaches to marketing that would be useful for your brand, such as sponsoring an event or creating a loyalty program for your customers.