If you are reading an article about the benefits of a mezzanine floor you are probably at the stage where your business is running out of space and you are looking for the most efficient way to expand in a cost-effective way. If this is the case, you are reading the right article. So many disparate businesses across the whole gamut of sectors are yearning for space as they need to stock more inventory and a more diverse range of stock thanks to an increase in demand for online shopping and a huge increase in sales of specific, often bulky items. Adding a mezzanine floor to an existing building makes so much sense for a whole raft of reasons that this article will explore, not least as it is making use of space that you already own or are paying for.
Free air space 
In choosing a mezzanine floor, should your existing building allow it – a situation especially true in warehouse environments, making warehouse mezzanine floors especially popular – you are simply maximising the layout of your existing building. Mezzanine floors are usually exempt from business rates and often avoid the need for planning application processes that can be a severe time drain. Relocating can be similarly time-consuming and the whole process can become something of a money pit. Mezzanine floors are a cost-effective, efficient and practical alternative and the results, assuming you choose a company with the necessary expertise, are often spectacular.
Enhanced social distancing 
It still feels surreal to talk in such terms, but the reality is that some form of social distancing in indoor environments might be with us for some time. In any event it is best to prepare for this scenario and boosting the floorspace in your place of work with a mezzanine floor will allow you to populate your warehouse or other building with more staff, helping to keep your staff safe while enhancing efficiency. Being unable to have enough staff on the premises has been a huge issue in many warehouses across the country – a mezzanine floor can make a massive difference.
Operational efficiency enhanced 
While the specific use of a mezzanine floor is down to you, the end result assuming you plan correctly will almost always be a boost to operational efficiency. Should you decide to create a quiet office space away from the main hub below, you will be able to get managerial and administrative work done more efficiently. If you decide extra storage space is more important then you will free up space below for day to day tasks that can be carried out with less risk of damaging inventory. Alternatively you can opt for another processing area thanks to the availability of many auxiliary products, helping to segregate distinct working areas. A mezzanine floor in a warehouse environment gives you sufficient overhead area to give each part of the building the space for different departments to operate more smoothly, with streamlining the business being the end result.
Retail boost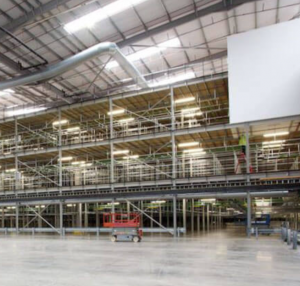 Mezzanines are not just for industrial application and in a retail environment, should you be fortunate enough to have a building that allows for it, a mezzanine can help create segregation of product types and an airier feel that makes for a more pleasant retail environment. You may have ventured into a different kind of product area and having a mezzanine floor would enable you to house the new range in its own area without confusing your existing layout. Having distinct spaces for different product ranges will help to make for a more attractive retail space. In addition, of course, it will also help with the social distancing element.
Longevity and flexibility 
Mezzanine floors are especially flexible, being constructed in the main out of steel frames. This allows for future adjustments to be made if you decide that the layout needs a little tweaking, so in that sense they are relatively adaptable compared to other extensions or building types. Of course, the principal longevity boost refers to your building as a whole. Adding a mezzanine, giving you the extra room you need will enable you to stay in your existing premises for as long as possible, saving you time, hassle and considerable expense.