PAT Testing is generally termed as portable appliance testing which is implemented at a regular interval basis in many working premises as well as for many electrical appliances to ensure safety and prevent electrical hazards. The frequency of the inspection depends upon the type of equipment and the environment being used to assure a low-risk environment every year.
Basic Necessity of PAT testing
In order to avoid an unsafe situation with the electrical equipment and environment, it is better to always implement the PAT testing and also to comply with the Health and Safety rules and regulations. NFPA states that "Electricity is considered to be the serious workplace hazard and brings about many safety issues like a loose connection, ground faults in equipment, electric shock, burns and fire accidents. These all lead to the worst consequence for both the workers, the organization, and portable devices used.
To Remove Electrical Hazards like,
High current faults causing a fire
Intermittent connection
Personal exposure to live conductors
Although it is not legally required to perform the PAT testing it is always a recommended measure in case of safety. There are Top PAT testing companies in the UK that provide the best services with professional engineers and offer various discounts based on portable products and organizations. It is not that always you approach some companies for performing PAT testing it can also be done by yourself with a good PAT testing Kit which is nowadays available with many advanced features to detect the faults in a highly qualified way as that of professionals and save you from worst consequences.
So here is the leading PAT testing kit used to detect the hazards and rectify it easily.
Top 10 PAT testing Kits 


1. UNI-T UT527 PAT Tester- Bundle 1
UNI-T UT527 PAT Tester This is the testing kit which is a great value for money within a single pack. Using this kit make you feel easier to identify the defects and is best suited for small business and those who are new to the business industry. After detecting the portable appliance, it only displays either PASS or fails that helps the individual whether to use the product or not. It includes a wide range of accessories like SimplyPATs Manual Entry Software.
Usage
Keeps your equipment safe with large carrying case
TestSafe socket Tester to check if your sockets working right
A comprehensive book that helps you to identify all simple and complex operations of the kit and provided with the USB which consists of training material by which you can train yourself from your own comfort zone.
Logbook to maintain records of all your testing
An adaptor is used to check the laptop power supplies and portable projectors.


2. First Stop Safety BattPAT Tester-Bundle 1
First Stop Safety BattPAT tester is the upgraded version of the PAT testing tool kit and you can experience all-in-one kit with highly qualified testing performed.
Usage
Keep your equipment safe with large carrying case and you can train yourself with the USB available from your comfort zone and also helps you to perform socket testing easily.
Portable, easy to use and it is easy for even entry-level testers.
The kit is capable of testing class I and class II appliances even above 20m extension.
Tests both 230V and 110V appliances


3. Seaward Prime Test 100 PAT Tester- Bundle 1
Seaward Prime Test 100 PAT testing kit is best suited for in-house testing and it comes with advanced features of testing that would be really helpful even for beginners.
Usage
Handheld unit for earth continuity testing
Leakage with measured test result values
Very simple to use since it comes with push-button operation
The accurate and reliable testing kit
It has LCD Displays which helps the user to read the PASS or FAIL indication clearly and take necessary steps accordingly.


 4. Kewtech EZYPAT-PLUS PAT Tester
If you are looking to perform powerful testing on all your portable appliances, then EZYPAT best suits you. It has all advanced features and also in addition to which it conducts the leakage test at 110v and 230 v.
Usage
Easy to use and convenient
Test Sequences are generated automatically
Long Battery life with nearly 14,000 tests
Appliance status pre-check
Extension Lead adapter
Quick start guide
Selectable substitute leakage limits


5. Seaward Primetest 50 PAT Tester 
The Primetest 50 PAT testing kit is battery powered and handheld which allows a fast and effective testing approach. A simple push of a button helps to identify the defects in earth appliance, double-insulated appliance, or main cord test.
Usage
Simple to use push-button operation
Easy to read LCD display
Accurate and reliable testing
Testing kit tests class I and class II portable equipment also.


6. Fluke 6500-2 PAT Tester
Fluke 6500-2 PAT tester is the one that comes with auto testing capabilities that allow us to increase the number of portable appliances tests completed each day. It is capable of working faster without compromising the testing results. Best suited for PAT testing
Usage
Preset PASS/FAIL Levels to Save time
Detachable test leads for quick field replacement
USB port for data transfer
Single mains socket for appliance connection


7. Martindale HPAT600/2 PAT Tester
Martindale HPAT600/2 is an entry-level kit ideal for beginners as well as experienced technicians. since it comes with labels, logbook, Socket testers, and many more. This tester consists of two modes one is manual and the other is automatic. With its main feature of built-in storage, it allows nearly 200 individual PAT testing records to be stored directly.
Usage
It is capable of testing 240v Appliances
It is safe for 200mA earth bond test
250V insulation test, checks appliances with surge protected circuits
This testing kit is compact and well suited for low volume testing.


8. First Stop Safety MemoryPAT PAT Tester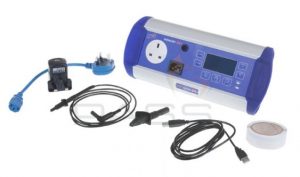 First Stop Safety MemoryPAT PAT Tester is a small budget testing kit that comes with automatic storage of test results and makes it significantly easier to manage your PAT Testing data.
Usage
Built-in memory system with the easily downloadable format to your PC directly
Portable and light weighted
Best suited for testing surge-protected appliance between 500v and 250v
IEC and mains sockets.


9. Seaward Apollo 600+ PAT Tester Elite Bundle Kit
Apollo 600 is one of the most comprehensive PAT testing kits available in the market today. It comes with large volume and professional PAT testing that satisfies the customer needs and it is one of the best choices among PAT contractors.
Usage
It has inbuilt storage with almost 50,000 testing records
2000 visual inspection is enabled with a built-in camera
Comes with latest IET CoP and has an interchangeable rechargeable battery to minimize downtime
Well suited for high volume testing. 


10. UNI-T UT527 PAT Tester – PAT Professional Kit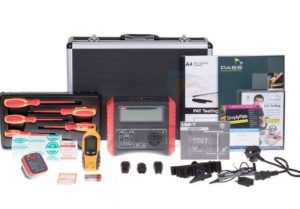 UNI-T UT527 Professional testing kit is best suited for new testers and also for small business organizations. Low-cost PAT testing kit with essential features available.
Usage
It is used to test class I and class II appliances
Insulation and ground resistance measurements
It also enables wiring tests.
The above mentioned are the top 10 PAT Testing kits and their usage in various aspects. Hope these details help you in performing a professional based PAT testing by yourself with effective performance.