While all businesses experience growth and decline to some extent, market moves can heavily impact investments and revenue from quarter to quarter. But what are these market moves? Are there ways for business owners to counteract some of the more inevitable moments, and what can they mean for you long term?
As always, it makes sense to keep up to speed with the latest market news and prepare for various market shifts that are likely to cause future concerns. Let's examine the most prevalent market conditions and how they could impact you.
Changes In Interest Rates
Interest rates affect different businesses and industries in a number of ways. On the face of it, you'll probably want market interest to stay low if you intend to grow and make a profit. However, if interest rates remain low for long periods, this can result in an over-saturation of poor investment decisions.
Ultimately, interest rates rise and fall, affecting how much investments bring into your business. It's worth watching how they move while you're scaling your business.
Consumer Demand
Consumer demand can increase and decrease wildly depending on your industry, the national cost of living, and ongoing needs. For example, businesses providing woollen clothing will likely expect a boom in demand around winter, especially as energy price rates increase. It's more affordable for people to invest in clothing than pay for extra gas and electricity to keep them warm!
As such, all businesses must keep a close eye on when and where their customers' demands will likely spike and fall. Are there periods in the year when these are likely to happen most of all? Do also remember that consumer demand may spike in times of crisis or when other businesses fail to meet their needs.
Foreign Exchange
As we've seen in recent months, the British Pound has proven to be fairly shaky in line with tumultuous political and socioeconomic events. As a result, it's become more profitable, in some ways, for businesses to trade with clients overseas (such as in the US). This situation is unlikely to persist to any permanent degree, but it's worth pivoting to national and international clients as political discomfort comes and goes.
Consider your international portfolio. Trading wholly inside the UK at the time of publication may be riskier than branching out overseas, but these conditions could change as confidence grows.
Competition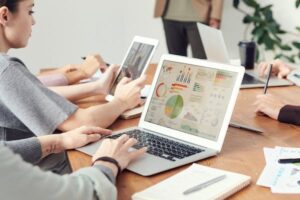 Finally, always consider the available competition on your product, service, or in your industry. Some industries may not see much competitive growth in the short term, but if consumer demand grows, it's safe to assume that more rivals will pop up soon.
Are you a leader in what you provide, or do you need to improve your business operations? Can you quickly pivot at short notice? Do you have insight that new competitors may struggle to harness right away?
The market conditions and potential movements listed above are all likely to affect businesses and industries differently. However, it's always a good idea to keep on your toes as much as possible!