List of Best CRM for a small business in the UK
CRM an abbreviation for Customer Relationship Management is a strategy to build effective customer relation for your business. Unlike the yesteryears, developing customer relationship has become the most significant factor in today's business scenario. The reason and benefit in doing so is to maintain a ceaseless bond with existing customer and at the same time cater to the needs of new ones.
Be it small, medium or large business in the UK, CRM is being incorporated by almost all businesses in order to retain their customers and increase sales and productivity.
Among the wide spectrum of CRM options to choose from, which one will be the most ideal and promising, particularly for the small business in the UK?
Based on users experience, excellent customer services, and exceptional merits, we have assembled a few best CRM software that will be highly beneficial for your small business in the UK
ZOHO
Looking for a quick and simple CRM for your small startup business, ZOHO is well satisfying. As such ZOHO was cost-effective and easy to use but with a new version, it has become all the more powerful and extremely user-friendly. With its AI assistant feature, you can smoothly go ahead with 'how to videos'.
Visible benefits
best low budget CRM
ease of use
merge multiple channels
effective performance
Salesforce
Salesforce
stands as one of the well-established and oldest CRM in the market. It's highly considered as one of the optimal choices by the small businesses. Integrated with great customer support, effective tools and extremely significant features, this CRM blends with any platform. You are definitely going to admire its flexibility.
Visible Benefits
Improvised sales
Admirable services
Personalized Marketing
App Builder
Fully customizable
Free trial
Copper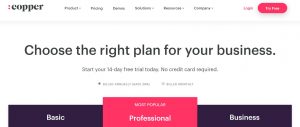 Not only small businesses but many large enterprises are powered by cooper. Crafted for Google compliance and complying with G Suite appearance, this CRM is easily adaptable by many businesses. Those having a Gmail account can easily generate and manage leads via copper CRM.
Visible Benefits
Incorporate thousands of tools
Trial version available
Sales forecasting
Sufficient storage space according to the tier
Highly recommended for Google and Email integration
Sage
This being yet another oldest established CRM since 1981. Backing up more than 12000 organizations, they can be one of the considerable choices for your small business in the UK.  Though it doesn't beat the other CRM against customer support but is very easy and simple to use for the startups. Also, you can avail it at an affordable all-inclusive price range.
Visible Benefits
Sales and account management
Calendar management
Basic customer support
Marketing assessment
Maximizer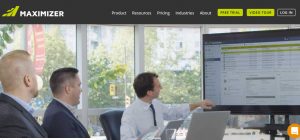 This particular CRM software is well suited for both small and medium scale businesses in the UK. Enabled with full tracking abilities, this cloud-oriented CRM software comes with an affordable price. It's popularly opted for hi-tech lead management solution. Albeit, there is no free trial available and it lacks in complying with social media networks.
Visible Benefits
Optimizes sale tasks
Integrated with Microsoft
Contact Management
Apt for Email Marketing
Ease of use